CONTRIBUTING TO A PROSPEROUS COMMUNITY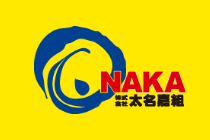 ONAKAGUMI Co., Ltd
We have coexisted with the environment by sharing in the community's collective wisdom over many years.
If we consider the Earth as an island, then we can say that the collective knowledge we possess on this island represents all of the knowledge in the world.
GREETINGS
As a locally founded general contractor, we have grown vigorously since our establishment, making significant achievements guided by our core principle of Sincerity.
We deeply appreciate your support and loyal patronage over the years.
The role our company plays in society has adapted to keep up with the times.
As occupations become more diversified in the modern age, people's needs also change. New developments such as AI and ICT are being adopted rapidly and are currently being used to improve business efficiency through the modernization of occupational techniques.
In this age of rapid change, we believe that our responsibilities include adhering to timelines, ensuring security, safety, and trust, as well as serving our customers faithfully.
Under our corporate mission, which has been the core of our company, we have been proud to build infrastructure that the community can be proud of and that will stand the test of time.
We sincerely thank you for your continued guidance and encouragement.
PROFILE
Company Name
ONAKAGUMI Co. Ltd
Head Office
2-1-1 Ohira, Urasoe, Okinawa, Japan 901-2113
TEL: +81- 98-878-9558   FAX: +81- 98-878-9516
Capital
100,000,000 yen
Corporate Officers

Chairman

Ken Naka

President

Taisuke Naka

Vice President

Hiroyuki Naka

Senior Executive Director

Toshiro Irei

Senior Executive Director

Keizo Adaniya

Executive Director

Masaru Naka

Executive Officer

Hitoshi Taira

Executive Officer

Hidenori Yonaha

Director

Sada Naka

Auditor

Ritsuko Higa

Primary Banks
Bank of The Ryukyus, The Bank of Okinawa,
Okinawa Kaiho Bank,Okinawa Development Finance Corporation
Special Construction License Obtained from the Okinawa Prefectural Governor: No. 3160
Civil engineering / Construction / Carpentry / Plastering /
Scaffolding / Masonry / Roofing / Tile, Brick, and Block work /
Steel Construction / Reinforcement / Paving / Dredging work/ Sheet-metal work / Glass / Painting /
Waterproofing/ Interior finishing /
Heat insulation / Interior fittings / Plumbing/ Demolition /
General Construction License Obtained from the Okinawa prefectural governor: No. 3160
Plumbing
Services
■ Contracting for civil engineering, design, construction, and project management.
■ Sales of construction materials. Contracting for electrical and plumbing work.
■ Leasing of construction equipment and vehicles. Property and real estate sales, and property management.
■ Sales and collection of sand and gravel.
■ Damage insurance and life insurance solicitation.
ORGANIZATION CHART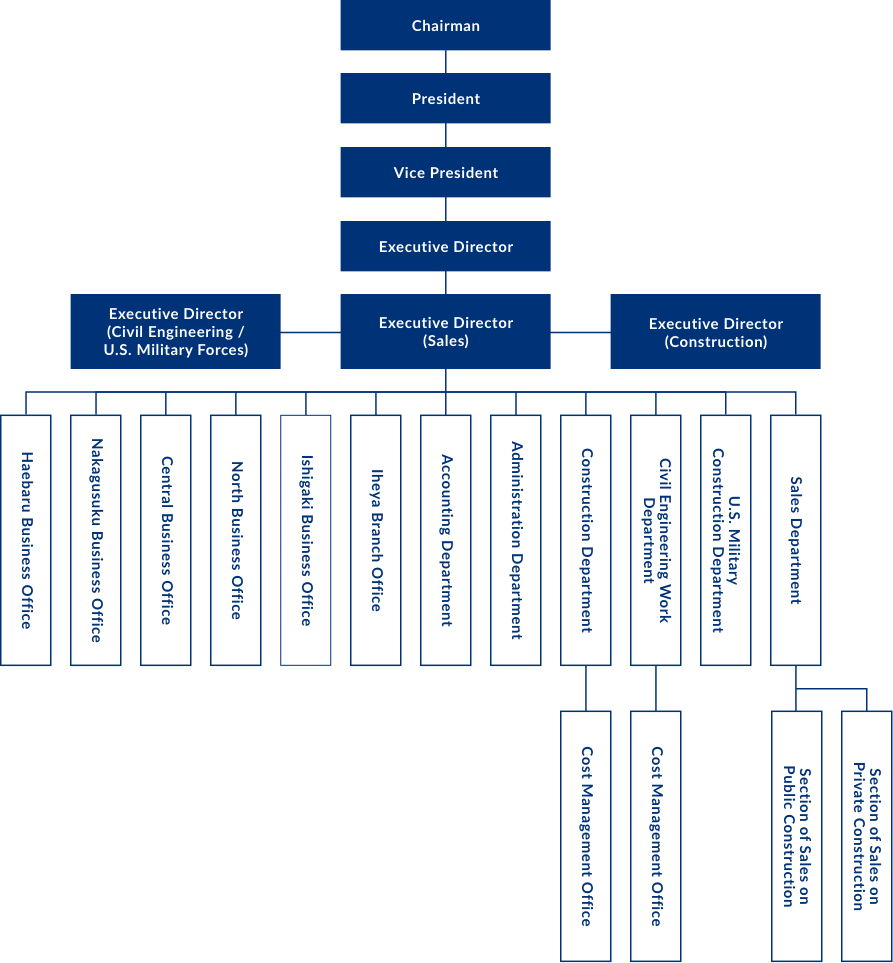 HISTORY
Jan. 1972

Established as Naka construction.

May. 1976

Obtained construction license

Dec. 1982

Renamed as Onakagumi Co.,Ltd. with a capital of twenty million yen, moved to 632-9 Uchima, Urasoe city.

Dec. 1982

Opened Iheya branch office.

Nov. 1984

Increased capital to 37 million yen and moved to 2-1 Ohira, Urasoe city.

Jun. 1988

Increased capital to 49 million yen.

Jun. 1992

Increased capital to 100 million yen.

Dec. 2000

Obtained ISO9001(Quality)certification

Feb. 2002

Opened an Ishigaki business office.

July 2009

Opened a Central business office.

Oct. 2013

Opened a Haebaru business office.

Oct. 2013

Obtained ISO14001(Environment)certificate

Jan. 2016

Opened a North business office.
ISO9001・ISO14001 QUALITY POLICY / ENVIRONMENTAL POLICY
Our policy is to provide products meeting our customers' requirements and to contribute to the community. By listening to our customer's needs, we aim to improve our customer service and in-house organization.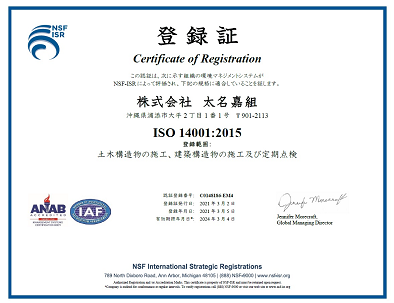 HEALTH AND SAFETY MANAGEMENT
Basic philosophy
The most important part of a company is the people. Therefore, we carry out our work with the idea that our employees' well-being is the starting point. For us, safety and health management for our staff and contractors are top priorities.
Safety and Health Policy

We have established an organizational system of safety and health management based on the Industrial Safety and Health Act and make every effort to prevent occupational accidents.We strive to manage the health of our staff by working with industrial physicians who belong to the Okinawa Medical Association.
We will further promote disaster prevention through risk assessment and risk prediction measures, and strive to continuously reduce occupational accidents.
To ensure thorough safety on the job site, we hold regular safety meetings as well as safety education classes, and top-ranking staff carry out monthly safety patrols to understand site conditions.
We emphasize safety as our priority, and make continuing efforts to prevent accidents by employing constant safety checks.

Regulations forSafety Management

Persons with certain medical conditions are not authorized to enter construction areas.
Persons with blood pressure issues are not authorized to enter construction areas.
Keeping the Work Place Clean and Organized
Always keep the work place clean and tidy in order to improve work efficiency and prevent accidents.
Smoking
Smoking is never permitted while conducting work activities.A designated smoking area will be provided, and smokers must use only this location.
Use of Hard Hats, Safety Harnesses, and Safety Shoes is required.
(1) Always wear a hard hat during working hours.
(2) Fasten safety belts or harnesses tightly to the waist and attach the tether to the master  rope where safety belts are required.
Fire ExtinguishersFire extinguishers will be installed in designated areas at each site.
Heavy Equipment Operation
(1) Create a no-go zone around hazardous work areas, machines, and under lifting loads.
(2) Only a qualified operator may operate heavy equipment.
(3) A heavy equipment operators license should always be carried by the operator.
Fall protection equipment
Handrails, safety ropes, and safety nets must be installed before starting a task.
Using a Dust Mask
Use of a dust or particle mask when spraying paint or chemicals, or near sawdust while working indoors, is required.
Welding
Use of a shield or welding mask is required.
Handling Rigging Rope
(1) Rigging Rope (for lifting a load)
Only use wire rope fitted with a crimped ferrule end connection to secure a load.
(2)"Daitsuki" Five strand cable for load lifting 
For securing objects, a minimum of five stranded twisted cables, or "Kagosashi" cables
(Twisted in the opposite direction) should be used.